Three Hallel Psalms, Braun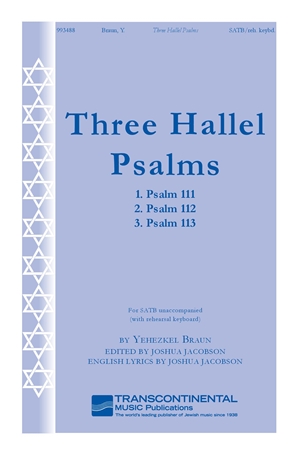 Three Hallel Psalms, Braun
Composed By: Yehezkel Braun
Title: Three Hallel Psalms (Sh'losha Pirkey Hallel)
Purchase sheet music at Transcontinental
purchase CD here and here (version with instruments)
Voicing: SATB
Language: Hebrew (or English)
Difficulty: moderately difficult
Country: Israel
Solos: soprano solo in the second movement
Instruments: none
Lyrics: Psalms 111, 112, 113
Year Published: 1995
Timing: 9:10 (three movements 3:15 + 3:15 + 2:40)
Tempo: three movements: moderate, slow, and fast
First Line: first movement: Odeh Adonai Bekhol Levav (I sing unto God with all my heart)
First Line: second movement: Halleluyah, Ashrey Ish Yarey et Adonai (Blessed be he (she) who knows the power of God)
First Line: third movement: Halleluyah, hallelu avdey Adonai (Praise the Lord, ye servants of God)
description: Three Hallel Psalms (or "Three Psalms of Praise") was commissioned for the 11th Zmiriyah (International Choral Festival) that took place in Israel in June of 1979. The three-movement work is beautifully constructed, using modal melodies in a mostly contrapuntal style.
In 1984 Braun wrote a setting of the liturgical Hallel (Psalms 113-118) for choir and soloist and orchestra. The first movement of this work is a revision of his earlier setting of Psalm 113, the third movement of "Three Hallel Psalms." This setting Psalm 113 with orchestra (or a cappella) can be performed alone.
For a detailed analysis, please see Joshua Jacobson's DMA thesis, Choral Compositions in the Eastern Mediterranean Style, College Conservatory of Music, 1984.